Six Reasons Why Madesimo Should Be Your Next Ski Destination
February 11, 2019
Madesimo is a true hidden gem. While most people have heard of the resort, few have actually ever been.
But Madesimo has so many things that we skiers look for in resorts!
It's time to introduce everyone to the treasure that's Madesimo – so without further ado, here are four reasons why Madesimo should be your next ski holiday destination…
1. It's an Easy Journey
Madesimo is located only two and a half hours north of Milan, so there are plenty of flights into Milano Linate Airport or Milano Malpensa Airport to choose from, including regional flights.
You can also choose to fly into Bergamo instead.
The drive from Milan to Madesimo is gorgeous, passing George Clooney's pad on Lake Como and stunning views on the way.
And if you don't want to rent a car, there are also plenty of transfers and shuttles available between Milan and Madesimo.
Tip: A great lunch spot en route is the Seven Park Hotel at Colico on Lake Como
2. It's Italy, So the Food is Great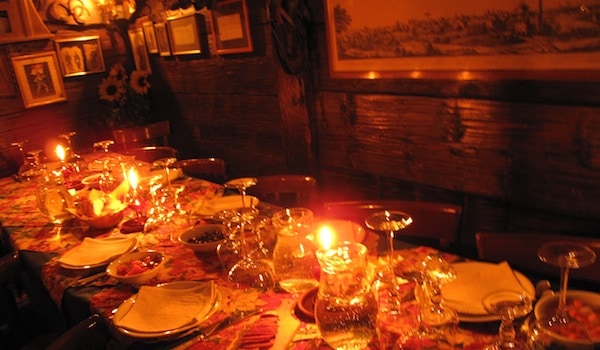 This is where the bresaola comes from, so expect to be impressed.
For the big foodies, there's the Cantinone in Madesimo – which has a Michelin star.
But my favourite restaurant was actually Dogana Vegia, situated in the old customs house. It's actually the restaurant in the picture above! The ambiance was simply amazing, with lots of little cosy corners equipped with fire places and tables and full of antique objects.
3. There Are 60km of Snowmobile Tracks
This is very rare. With the exception of Scandinavia, I don't think there's anywhere in Europe where you (yes, you) can drive a snowmobile for so long.
There are stops at various refuges along the way, so if you're in the mood for a vin brulle or coffee, you're in luck. Better yet, you can drive your snowmobile under the night sky to have dinner at a mountain refuge. That, my friends, is a truly unique experience – I assure you.
And if all that snowmobiling has got you in the mood for driving in winter conditions, Madesimo also plays host to an ice driving school. Lessons are available for those who want to polish their skills and confidence for driving on snow.
4. Oh, and the Skiing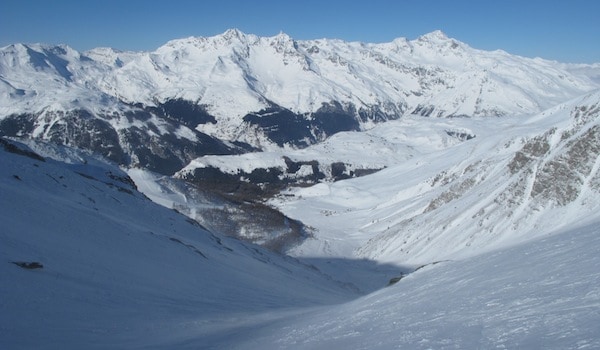 Thought I forgotten about that, didn't you? With skiing from 3000m, all the way down to the town at 1500m, there's plenty of it. And since nearly all the slopes have an east-facing aspect, you can ski on great snow well into April.
The bottom part of the mountain has some excellent fast-cruising terrain combined with a healthy dose of beginner slopes, whilst the lift system is modern and easily accessible from the majority of the hotels in town.
And Then, There's the Canalone
This is a 1000m vertical, ungroomed itinerary run served by a lone cable car. Believe me, it's something. One of my groups for a trip to Madesimo included the mafia of the British travel press and they all agreed that this was one of the top ten runs in Europe that ought to feature on every skiers' to-do list.
You Can Do Night Skiing
Madesimo is also a great spot for night skiing. Now normally, that's not everyone's cup of tea (although if you have kids, I'm sure they'll be delighted). But humour me for a second, and try to look at it this way:
Get the gondola shortly after dusk, and go and have a lovely meal on the mountain at the Larici restaurant. Good so far, right?
Then you get to ski down. The slopes are floodlit all the way down to Madesimo as you return to resort. Which means you can ski down at your pace – which may be rather measured – if your dining experience at the Larici was half as good as mine was.
5. And If You're Done Skiing
There's much more fun to be had in the snow. Think:
Funparks
Cross-country skiing
Ice skating
Sledging
Fat-biking
Snow-kiting
Ice climbing
Snow-shoeing
Snowmobiling
And so much more…
6. No Need to Break the Bank
"Quality for less" as visitors to Madesimo often put it. You get all of the holiday, but don't have to have as big of a budget as when you travel to the bigger, well-known resorts.
Madesimo is a family-friendly destination with incredible value – and extremely high quality.
So What Are You Waiting For?
To think, just a few moments ago you'd never really thought about going to Madesimo. Je rest ma valis (I rest my case) – you have to go.
If you're interested in a trip to Madesimo, contact us today about a tailor-made ski trip.
Adapted from original article on Welove2ski.